M*A*S*H
Brave Last Days: How Alan Alda, 87, Is Winning His Fight With Parkinson's Disease
Showbiz veteran Alan Alda is 87 and suffering from Parkinson's disease, but he's not going down without a fight! The brave M*A*S*H star is armed with an amazing outlook on life and a wild sense of humor that's gotten him through "the happiest life a man can have."
"Waking up alive is a really nice thing," he said with a laugh. As for his medical battles with Parkinson's, a progressive disorder that affects the nervous system, he's holding his own. "I shake a little, but I'm good," revealed the acting legend. "I work out. You can hold back the progress a lot if you do a lot of specific exercises, so I do a lot of crazy things. I box two or three times a week, play tennis, juggle and do tai chi."
And there's one activity he laughs about. "I march to Sousa music," he said, referring to composer John Philip Sousa, "The March King."
"Lotta Sousa music going on all the time in my house. I work so hard, I guess that's part of it. I feel like a kid because I'm working so hard."
Alda may be an octogenarian, but that hasn't stopped him from embracing technology, so much so that he's known to some as the world's oldest millennial. "That's what they call me at my office because I'm very into computers and social stuff, you know, and my podcast," said the actor, who hosts the podcast "Clear+Vivid."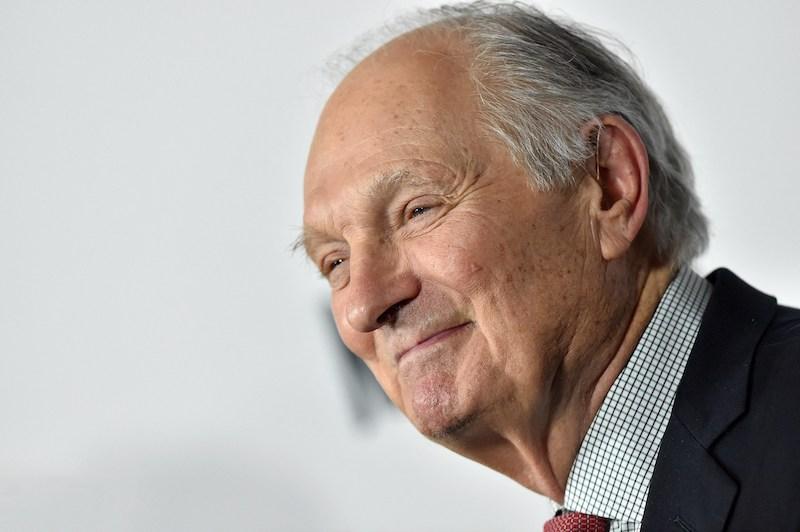 "I'm very happy with all that stuff."
The six-time Emmy winner isn't showing any signs of taking it easy. In addition to his exercises, he appears on the Showtime series Ray Donovan and is in the recent movie Marriage Story, where he plays a warm-hearted lawyer who represents a stage director during divorce proceedings.
At first, Alda was concerned director Noah Baumbach would say his Parkinson's shake might turn viewers off. "I have this tremor. It's not part of the script so I didn't want it to be distracting if Noah thought it would be distracting," said Alda. It did just the opposite, turning the usual slick moves of sharklike lawyers into a man with humanity.
Born in the Bronx, in New York City, Alda spent his childhood with his parents traveling around the United States in support of his father, Robert Alda, who was a performer in burlesque theaters before becoming a screen star. While attending Fordham University, Alan met Arlene Weiss, a classical clarinetist, writer and photographer. They married a year after his graduation — and celebrated their 65th anniversary on March 15!
Arlene was the first person to alert Alan to the developing symptoms of Alzheimer's in 2015, telling him he wasn't swinging his arms when he walked. He began acting out his dreams in his sleep too, another early sign of Parkinson's. "I was having a dream that someone was attacking me and I threw a sack of potatoes at them, but what I was really doing was throwing a pillow at my wife," he revealed. "I didn't have any [other] symptoms. The doctor said, 'Why do you want a scan? You don't have any symptoms,' and I said, 'I want to know if there's anything I can do, I want to do it before things start to show up.'"
Soon after, he got the diagnosis. "A lot of people hear they have Parkinson's and get depressed and panicky and don't do anything, just hoping it will go away," he said. "It's not going to but you can hold off the worst symptoms. It can get really bad, but your life isn't over. You don't die from it, you die with it. It's not the end of the world when you get this diagnosis. I decided to let people know I have Parkinson's to encourage others to take action, keep moving."
MORE ON:
NEWS
Soap Opera Star Eric Braeden Reveals He Feels 'Pretty Good' Amid Treatment for Prostate Cancer, Reveals He Was 'Misdiagnosed' at First
Dolph Lundgren Reveals Harrowing Secret Battle With Cancer That Nearly Killed Him: 'Lucky to be Alive'
'Young And The Restless' Star Eric Braeden Reveals Cancer Diagnosis In Emotional Video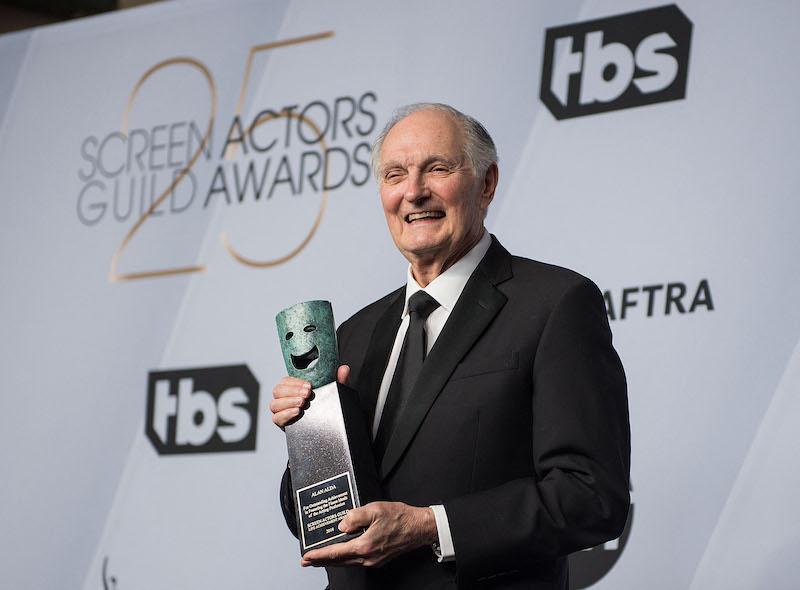 During the pandemic, he spent the time with Arlene at their home on Long Island, going on socially distanced walks with their friends to keep moving. "I'm having a good time, under the circumstances," he said. Even if Alan wanted to have a pity party, Arlene wouldn't allow it, said an insider. She makes sure he's up at the crack of dawn and armed with a full schedule. "She doesn't let him lie around the house being lazy. He gets up early in the morning, has a cup of coffee with Arlene, and breezes to his office in Manhattan," said the insider. "He reads everything under the sun about science and technology and hopes that there will be a cure for Parkinson's someday."
The couple share three daughters, Eve, 63, Elizabeth, 61, and Beatrice, 60. They have eight grandchildren. It's been 50 years since Alan hit it big when he landed the starring role of Hawkeye Pierce on M*A*S*H in 1972. "We all worked very hard," he recalled.
Although the long-running show's surviving stars — who include Loretta Swit, 84, Jamie Farr, 87, Gary Burghoff, 78, and Mike Farrell, 83 — still stay in close touch "like family," they've sadly lost many beloved castmates.
Never miss a story — sign up for the OK! newsletter to stay up-to-date on the best of what OK! has to offer. It's gossip too good to wait for!
McLean Stevenson (who played Lt. Col. Henry Blake) died of a heart attack in 1996 at age 68; Larry Linville (Maj. Frank Burns) died of pneumonia after cancer surgery in 2000 at 60; Harry Morgan (Col. Sherman T. Potter) died peacefully in his sleep in 2011 at 96; Wayne Rogers (Trapper John) died of pneumonia in 2015 at 82; William Christopher (Father Mulcahy) died of lung cancer in 2016 at 84; and David Ogden Stiers (Maj. Charles Winchester) died from bladder cancer in 2018 at 75.
Although these losses were each a "punch to the gut," Alan is determined to live life to the fullest. Instead of seeing Parkinson's as a "condition," he looks at it as a "challenge." He explained, "It's like a puzzle to be solved: What do I have to do to adapt to carry on a normal life? And I enjoy solving puzzles."
Added the insider, "He's inspiring everyone he meets with his incredible bravery. He tells people not to worry about him because he's got this!"